Your hotel in Egestorf between Hamburg and Hanover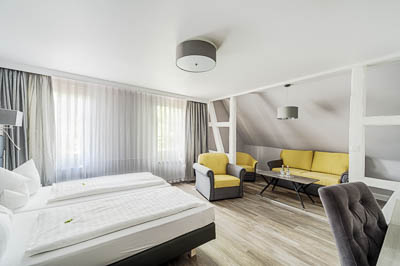 Our

Hotel Acht Linden in Egestorf in the Lueneburg Heath offers single and double rooms as well as suites. All rooms are equipped with bath or shower, toilet, hairdryer, movable cosmetic mirrors, slippers & bathrobe, TV, CD radio, telephone & Wi-Fi.
Egestorf, an old village in the Lueneburg Heath between Hamburg and Hanover can be reached quickly via the A7 motorway, Egestorf exit. The Hotel Acht Linden is centrally located, directly opposite the old church of St Stephanus founded 1645, which is picturesquely surrounded by lime trees (map how to get there).
Bicycles for exploring the nearby Lueneburg Heath nature reserve are available at the hotel free of charge.
Room categories at the Hotel Acht Linden - Book now at the best price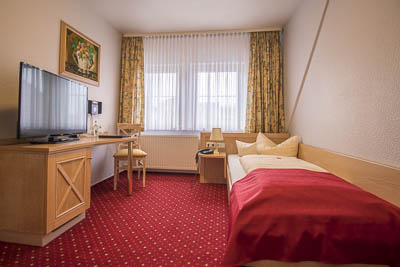 Example
Single room
bath or shower, toilet, telephone, radio, slippers & bathrobe, writing table
room size approx. 15 qm, bed size 90 x 200 cm
price from 70 € including a rich breakfast buffet

book online now >>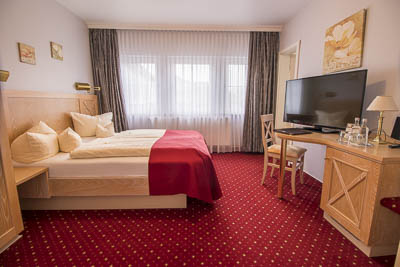 Example
Double room
bath or shower, toilet, telephone, radio, slippers & bathrobe, writing table
room size approx. 17 qm, bed size 180 x 200 cm
price from 105 € including a rich breakfast buffet

book online now >>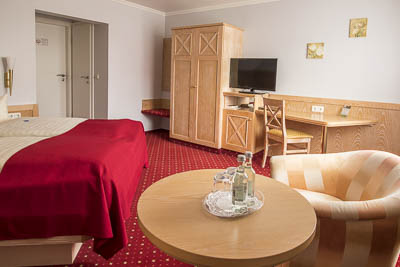 Example
Double room comfort
bath or shower, toilet, telephone, radio, slippers & bathrobe, writing table, armchair
room size approx. 23 qm, bed size 180 x 200 cm
price from 120 € including a rich breakfast buffet

book online now >>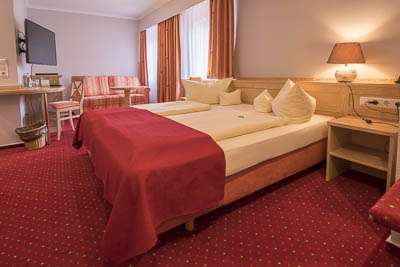 Example
Double room superior
bath or shower, toilet, telephone, radio, slippers & bathrobe, writing table, sofa room size approx. 25 qm, bed size 180 x 200 cm
price from 130 € including a rich breakfast buffet

book online now >>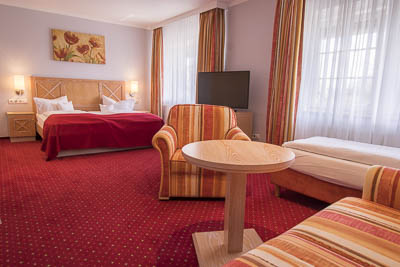 Example
Juniorsuite
bath or shower, toilet, telephone, radio, slippers & bathrobe, writing table, sepearate sitting area with sofa and armchair
suite size approx. 30 qm, bed size 180 x 200 cm
price from 140 € including a rich breakfast buffet

book online now >>
Example
Suite
bath or shower, toilet, telephone, radio, slippers & bathrobe, writing table
living room and two sleeping rooms (bed size 180 x 200 cm resp. two beds 90 x 200 cm)
price from 150 € including a rich breakfast buffet

book online now >>